Original Augvape Occula RDA Rebuildable Dripping Atomizer with BF Pin
Original Price $39.99, Now Only $23.99
The Occula 24mm RDA by Augvape is a collaboration between Augvape and Twisted Messes, this is a project you will not want to miss. Featuring an innovative Dual Post captive clamp system to fit any size build with ease. Each post has 5.5mm width by 2.6mm in height, leaving space for even the beefiest coils. Utilizing two massive hex-shaped screws that work with flat-head and Philips screwdrivers, as well as pliers if needed. Clamps raise automatically with screws. The adjustable airflow system helps a lot in escalating the taste as well. This item also has other color to choose.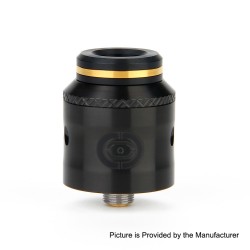 Original IJOY Saturn 1100mAh 15W Pod System Starter Kit
$29.99
IJOY Saturn Kit is an elegant pod system that looks very like a hip flask. Constructed from a combination of zinc alloy, stainless steel, and curved glass, it maintains a breath-taking visual aesthetic while possessing an ergonomic exterior to naturally fit in the hand. Powered by a built-in 1100mAh battery, the Saturn can fire up to 15W and last for a rather long time of vaping with minimum recharging required. And there is a little LED indicator light embedded in the delicate round power button, which will show you the battery level clearly. As for the refillable pod, it can hold up to 3ml of your favorite e-juice and has three coil options. The 0.6ohm Saturn Mesh Coil focuses on specific tasks to create massive clouds, while the 1.0ohm and 1.2ohm Mercury Coils are optimized for nic salts. Anyway, the Saturn is really a decent choice if you're looking for an exquisite and easy to use pod system device. This item also has other color to choose.
Original Suorin AirPlus 22W 930mAh Pod System Starter Kit
$26.90
Suorin AirPlus Kit is an updated version to the previous Suorin Air. Powered by a built-in 930mAh battery, it implementing a maximum output power of 25W and longer vaping time than the 400mAh Air. The battery can be fully charged in 50 minutes via the USB C type charging port on the bottom of the kit. Along one side of the kit, there are five battery life indicator lights that will turn off one by one depends on the battery level, 5 lights for above 80%, 4 for 60~80%, 3 for 40~60%, 2 for 20~40%, and 1 means the battery level is below 20%. As for the pod, it can hold up to 3.2ml of your favorite e-juice (2ml for TPD version) while adopting oil-baffle design. This time Suorin introduces the AirPlus pods of two kinds of coil resistance, one for 0.7ohm, and the other for 0.8ohm. Anyway, the AirPlus is worth a shot if you like the Suorin's pod system devices. This item also has other color to choose.
Original Vapesoon DT231-H 810 Replacement Drip Tip for TFV8 / TFV12 Tank / Goon / Kennedy / Reload RDA
$1.69
The Original Vapesoon 810 drip tip is made from resin with 12.5mm diameter 810 connector. It is suitable TFV8 Tank, TFV8 Big Baby Tank, TFV12 Tank, for Goon RDA, Goon RTA, Lost Art Goon RDA, Goon LP RDA, Kennedy 24 / 25 RDA, Battle RDA, Mask RDA, Kryten RDA, Mad Dog RDA, Mask RDA, CSMNT Cosmonaut RDA, Unholy RDA, Apocalypse GEN 2 RDA, Reload RDA, Mini Battle RDA, Avid Lyfe Captain Cap II, Sith RDA, Reload RTA. This item also has other Version to choose.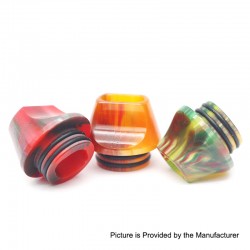 YFTK Replacement Tank Tube for EVL Reaper V3 RTA Clone
$3.59
The Replacement Tank Tube is made from PCEG and suitable for EVL Reaper V3 RTA Clone. The PCEG tank is with 22mm diameter and 2ml capacity. This item also has other Version to choose.